// end of the sub header // ?> // here is the content //?>
Thai Spring Rolls
// here is the normal content // ?>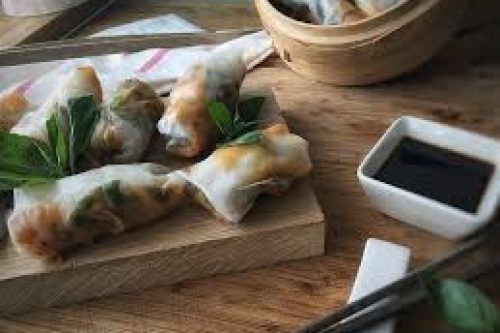 These spring rolls are easy, colorful, and tasty! They make a great appetizer or side dish to bring to an event or make with the family.
Prep Time

25 min

Total Time

25 min

Yield

6 servings

Serving Size

1 serving

Energy

75 cal
Ingredients
For spring rolls
6 spring roll wrappers (available in Asian markets)
12 medium shrimp, cooked and shelled or 1.5 cups cooked shredded chicken
1 cup shredded leaf lettuce
1/3 cup chopped cilantro
1/2 cup peeled, seeded, chopped cucumber
1 medium carrot, julienned
Quick Thai dipping sauce
1 tablespoon light soy sauce
1 tablespoon white-wine vinegar or rice vinegar
3 tablespoons mirin
1/4 teaspoon grated ginger root (optional)
Method
Preparation
1
In a bowl of cool water, soak a wrapper until limp. Lay wrapper out flat.
2
Place 1/6 of each ingredient down middle of wrapper, starting with lettuce.
3
Fold over each end and tightly roll the wrapper, as if making a burrito. Moisten at seam; press to close.
4
Lay rolls on plate, cover with moist paper towel and refrigerate until ready to serve. Then serve with Quick Thai Dipping Sauce or peanut sauce.
5
To make the Quick Thai dipping sauce, combine all ingredients in a small bowl.
These are very versatile. Fill them up with vegetables and a protein of your choice! We recommend adding tofu or avocado for vegetarians. If you are gluten-free, you must check if there is gluten in your soy sauce.

Nutrition Facts

Serving Size

1 serving

Amount per serving

Calories

75

% Daily Value*

Standard DV

Total Fat

0.3 g

78 g

0.38%

Sodium

290 mg

2300 mg

12.61%

Total Carbohydrate

12.8 g

275 g

4.65%

Dietary Fiber

0.5 g

28 g

1.79%

Protein

3.5 g

50 g

7%

Calcium

14.5 mg

1300 mg

1.12%

Iron

0.5 mg

18 mg

2.78%

*Percent Daily Values are based on a 2,000 calorie diet. Your daily values may be higher or lower depending on your calorie needs.